History of Campbell's Hollow
The property that is now known as Campbell's Hollow was founded in 1960 by a young husband and father named Hubert Sudlow. At the age of 21, he built the original home that we call Homestead Cottage. Mr. Sudlow later moved the red barn from nearby Enterprise and constructed the garage. He remained on the original 21 acres until 1974 when he sold to the Wolfrey family.
The Wolfreys' turned the property into "Animal Crackers", a small type zoo. The small concrete pads that you may notice on the property, such as the basketball court, had cages that housed such critters as bears, tigers, and a cougar. The cottage that we call "Jeannies" was constructed in 1979, because Mrs. Wolfrey did not like the fact that lions often slept in the main house. Neighbors have mentioned that the animals would frequently escape and roam the woods.
The property was sold again in 1981 to the Harris family.
In 1990, Janet and Gary became the new owners. The property went through a series of changes and Campbell's Hollow was opened in 1997 with Jeannies Cottage. In 1998, the 2 cozy cottages, Brookside and Valleyview were constructed.
During the fall of 1999, the property East of Voris Road was purchased from Mr. Les Johnson. The following spring, "Ridgeview" was opened in it's own private setting on the 20 acre plot. Gary and Janet now live on the East side of Voris Road at 9524. The original home has been converted to "Homestead Cottage."
Please make yourself welcome and enjoy the property that has become ours. We hope that you will find it to be a special place. We also hope that you find this brief history interesting.
Dedication
Campbell's Hollow is dedicated to my mother, Jeanne Thomson. She lived out her last 7 months of life here with us before she died of ovarian cancer.
With her encouragement, she helped turn our dream of sharing the beauty of Campbell's Hollow into a reality.
I feel very privileged to have known her and been her daughter. She was a woman with a real zest for life. Among her many talents was writing poetry.
I would like to share a few with you.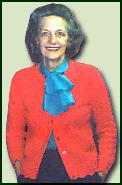 Ode to Campbell's Hollow
There's a feeling of pride as I enter my drive
And survey my kingdom at hand:
A home by the rill, a home on the hill
On thirty-some acres of land.
There are so many sights of visual delight
That tickle my fancy each season,
Winter, spring, summer and fall--I love them all--
It's hard to tell which is most pleasin'.
You'll find room to roam at our country home,
You'll lack not for ample employment.
There are trails to take walks on, or ride a horse on,
Just for your own sheer enjoyment.
You'll find a hammock for lazin', or blue sky gazin',
And while you enjoy the view
A brook babbles by reflecting the sky,
And a white Peking duck skims by too.
There's a deck for a cookout, or a birding lookout
Overlooking a broad valley view.
Here friends and relations hold celebrations--
Almst any excuse for a party will do.
And lest we forget our passel of pets
That share our roof and our bounty.
They better not roam from their Voris Road home
Deep in the hills of Hocking County.
Jeanne Thomson
1927-1996
Hocking Spring
I am so happy as I can be
While driving home on Route 33.
My spirit soars, I'm filled with mirth
Each winter spawns a spring's rebirth,
And on every hand I see
Dogwood blossoms on the tree.
Where leafless trees once staunchly stood
Is now a densely forested wood.
And like a white crocheted doily
Covering Hocking's every hill and valley
Are dogwood blossoms--they do more good
Than any spring tonic ever could.
And as if to mock my very glee
Tiny warblers sing from every tree.
While springing from the forest floor
Garnished with their sweet allure,
Wild flowers rise to welcome me
Programmed by nature's own decree.
What price for this, this beauty spot
That nature, alone, not man hath wrought?
Where from the top of every knoll
I find new wonders to extol.
Beauty like this can not be bought;
It's spring's own refreshing draught.
Jeanne Thomson
1927-1996
My Hocking County Home
There's a lovely valley where the creek runs clear;
Where sweet bird songs assault the ear.
Here turkeys trot and deer run free,
And a little log cabin is home to me.
Here's a place with space to see wide views,
To dream wild dreams and see them come true.
A cozy retreat from the winter's chill
Is my snug little cabin atop the hill.
Here the air is purer, the sky more blue;
Clouds seem whiter--fluffier too.
Cats and dogs find a welcome abode
At my little log cabin on Cantwell Cliff Road.
As the seasons pass there are projects galore:
Add a kitchen, a bath, build a deck, lay a floor;
Cut and stack wood, mow, rake and garden-till,
And dream more dreams to yet fulfill.
I've found peace and contentment in the country life
With good friends and neighbors and the love of my wife.
There's no place on earth I would rather be
Than my log cabin home in Hocking County.
Jeanne Thomson
1927-1996
Pretty Coco
When dawn is breaking, my call to awakening
From a deep night's slumber of rest
Is a paw on my cheek, and I feel rather weak
With that twenty pound weight on my chest.
With eyes of deep blue, she'll study you
Her gaze steady and unblinking.
It seems as though she somehow knows
Exactly what you're thinking.
She lives a life free from strife,
Her every need attended.
From every door and bureau drawer
Her toys are suspended.
She spends her days in catlike ways:
Cat napping, grooming, eating...
It's so much fun, that when the day is done,
At night it bears repeating.
She'll know none of this coupling bliss
This prim and proper maid;
No tom will come calling, no caterwauling
For this feline has been spayed.
Now, she's quite fat I'll grant you that;
She devours each meal with relish.
Yet, she'll turn with a bound and simply astound
You with leaps that are truly gazelle-ish.
She takes great care of her silken hair;
Hair any gal would covet--
From her great white ruff, to her broad beamed duff--
Lord knows, she has plenty of it.
With her tail held high she saunters by,
Bound for some favorite location.
And, isn't it curious, when she is furious
That tail gives the first indication.
Though there be no pedigree
I'm sure her blood is blue.
For at the helm of her household realm
Her every wish comes true.
She's a gentle miss, who would never hiss
unless she was greatly provoked.
And neither would we, if we should be
So lovingly petted and stroked.
She loves strings and bows, and furbelows;
At gift wrapping she's a grand master.
But, if let alone be with a Christmas tree,
You'll soon see one great disaster.
I'm somewhat alarmed that I am so charmed
By this twenty-some pound ball of fluff.
Hats of to Coco, she Oh--so rococo--
She's a cat with all the right stuff!
Jeanne Thomson
1927-1996